Dr. Lane Handke Named as Faith Regional 2021 Physician of the Year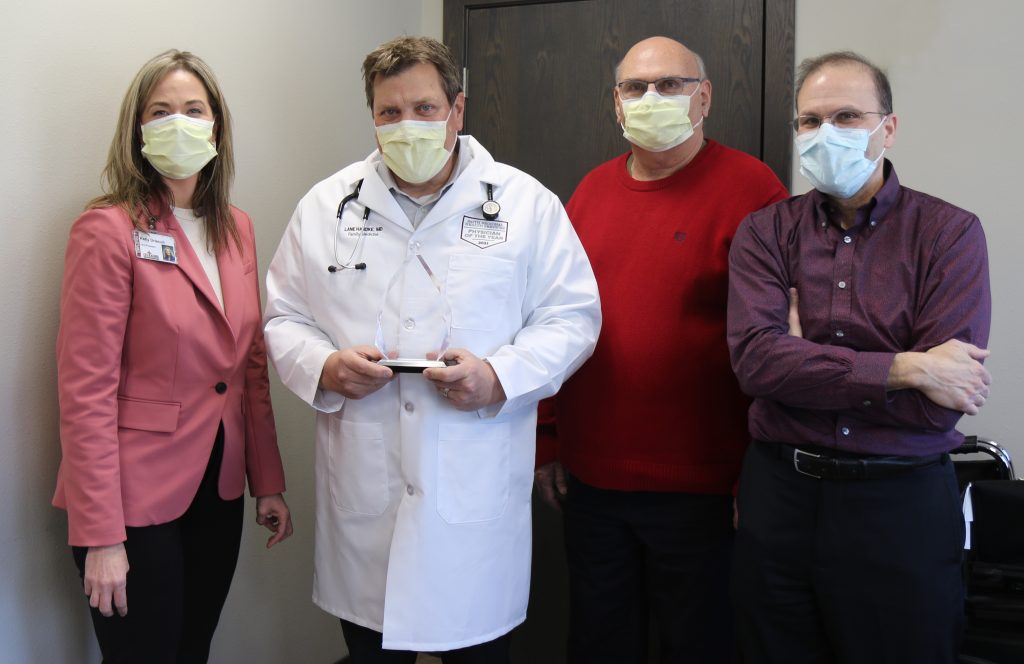 The goal of a primary care provider is to treat the whole person – not just your disease, injury, or illness. That's just what Dr. Lane Handke does for his patients at Faith Regional Physician Services Pierce Family Medicine. His medical expertise and compassionate care are just two of the reasons he was chosen as Faith Regional Health Services' 2021 Physician of the Year.
Dr. Handke joined Faith Regional's medical staff in 2011 with the opening of the new primary care clinic in Pierce. He's cared for countless individuals providing everything from well checks to acute care and chronic care management. Dr. Handke's role as a primary care provider in the community and lives of others was inspired by his father, Dr. Leon Handke who practiced family medicine in the region for many years.
In addition to caring for patients at the clinic, Dr. Handke also serves as the President of the Medical Staff and is a member of the hospital's Board of Directors, Medical Executive Committee, and Leadership Council.  
A few comments about Dr. Handke on the nomination forms submitted include:
"Dr. Handke is the doctor for myself and my five kids. He always makes you feel like his number one priority. He explains things to the kids so they can understand and is thorough. He is a great asset to our small community."
"Dr. Handke is a very caring physician who goes above and beyond for his patients."
"Dr. Handke really takes the time to know you and genuinely cares for my wellbeing. He's very knowledgeable in all aspects of medicine. Mental health is very important and he has helped me by leaps and bounds with my anxiety. I think he should be recognized for doing the community an amazing service."
Over 60 submissions were received for 2021 Physician of the Year with over 200 submissions sent in since the program's inception in 2017. The winner was chosen by Faith Regional's Physician of the Year Selection Committee. Nominees were evaluated on the testimonials received, active involvement in the hospital and within the community, and had to be a member of Faith Regional's medical staff.  
Nominate a physician for the 2022 Physician of the Year. Nominations are being accepted through November 1, 2022.