Urology

Urology is a specialized area of health care that deals with the diseases of the urinary tract (kidneys, ureters, bladder, and urethra) and the male reproductive system. Our team of providers treats a wide array of urological conditions and diseases that can affect how you function on a daily basis. Your treatment options include the latest non-surgical and surgical solutions to improve your quality of life. 
We treat urological conditions in both men and women. Urological conditions can affect men and women differently. Women can experience issues earlier in life due to pregnancy and childbirth. Men of all ages can experience urological issues related to an enlarged prostate, prostate cancer, male incontinence, sexual dysfunction, and low testosterone. Faith Regional Physician Services Urology in Norfolk, Nebraska, will work with you to help properly diagnose and treat your urological conditions. 
---
Conditions We Treat
A patient may self-refer or be referred to a urologist for diagnosis or treatment of a range of conditions, including: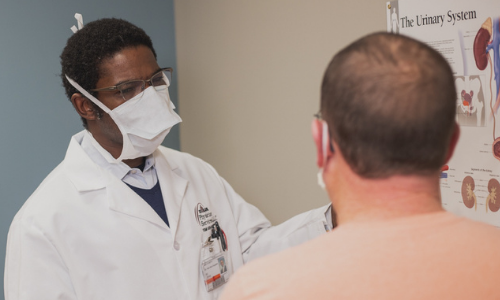 Enlarged prostate (Benign Prostatic Hyperplasia – BPH) 
Erectile dysfunction
Incontinence and voiding dysfunction
Interstitial cystitis or painful bladder syndrome
Bladder, kidney, and ureteral stones
Cancer – bladder, kidney, prostate, and testicular
Male infertility
Peyronie's disease
Prostatitis
Urethral stricture
Urinary tract infections (UTIs)
---
Treatment Options Available
At Faith Regional Physician Services Urology, our providers work closely with you to develop individualized treatment plans to help you achieve the best possible outcomes. Some of our treatment options include the latest, most innovative procedures available. 
Overactive Bladder? Botox can help.
In this Living Well article, Dr. Yemi shares how Botox can be used as a treatment option for urge incontinence here at FRPS Urology. 
Rezūm Water Vapor Therapy Offered to Treat Benign Prostatic Hyperplasia (BPH)
Frequent urination can be a sign of an enlarged prostate or BPH. Rezūm water vapor therapy treats symptoms without surgery, drugs, or potential side effects.
UroNav Fusion Biopsy System
Your urologist can now better detect suspicious prostate lesions and biopsy them with the UroNav prostate fusion biopsy system resulting in a more accurate and faster diagnosis.
---
Schedule Your Appointment Today
Call (402) 844-8341 to schedule an appointment today to meet with one of our Urology providers to discuss your symptoms, condition, and treatment options available.