Abdominal Reconstruction
Abdominal wall reconstruction surgery treats complex abdominal wall weakness and defects, such as large holes, hernias, and traumatic injuries. It can add support and strength to abdominal areas when other surgical treatments have failed.
At Faith Regional Physician Services in Norfolk, Nebraska, you'll find expert care for simple or complex abdominal disorders. You can schedule a consultation with a board-certified plastic and reconstructive surgeon free of charge. The doctor will assess your condition and offer personalized care recommendations.
Understanding Abdominal Problems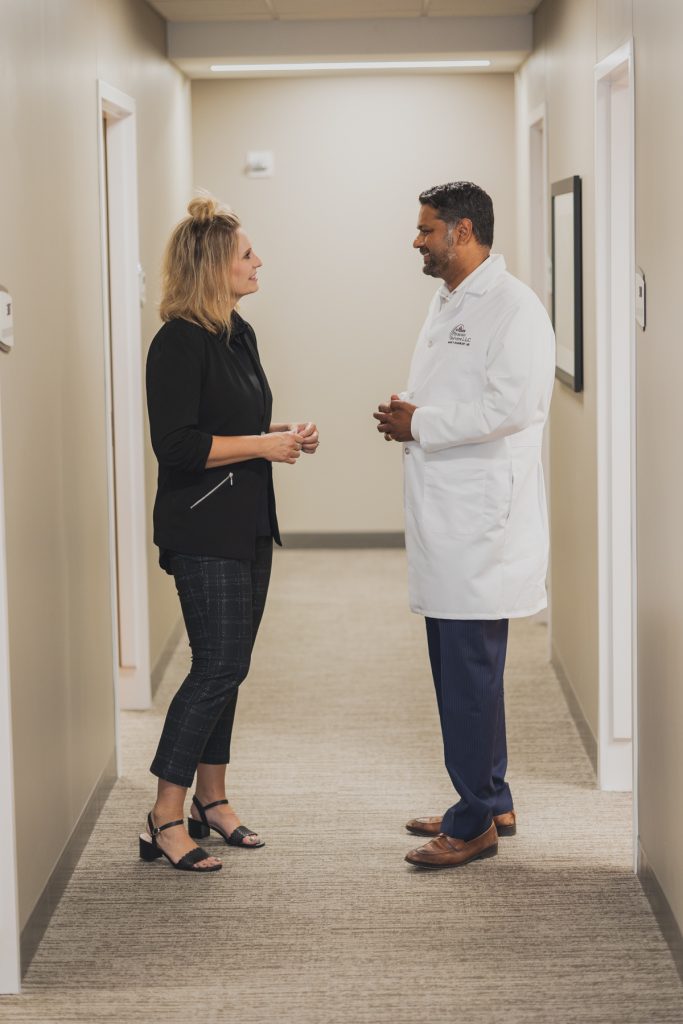 Your abdominal wall has muscles, tissues, and tendons that support and protect internal organs. Poor health, age, and other conditions can weaken this supportive wall. Surgeries, weight gain, heavy lifting, injury, or infection can cause or raise the risk of abdominal injury.
If holes or tears develop in weak areas of the wall, internal organs push through, causing a hernia. Untreated abdominal wall problems get worse. They can lead to serious intestinal complications, including incarcerated hernia (trapped tissues) or strangulated hernia (blocked intestinal blood flow) – a life-threatening emergency marked by severe abdominal pain.
Abdominal injuries don't always have symptoms. Your doctor may diagnose a hernia during a physical exam. In some instances, there is abdominal pressure, pain, or a bulge in the groin or belly. For complicated conditions or after failed surgeries, your doctor may refer you to a plastic and reconstructive surgeon for abdominal wall reconstruction.
How Plastic and Reconstructive Surgery Helps
Our plastic and reconstructive surgeon has advanced education and training in repairing injuries and rebuilding soft and hard tissues. Our doctor is highly trained to perform complex operations with meticulous care.  
If you have an abdominal procedure, your reconstructive surgeon will use advanced surgical techniques. The doctor will reposition displaced organs and tissues, repair holes and traumatized tissue, and close small or deep wounds with exacting precision.
At Faith Regional, your doctor takes extra care to support, rebuild and strengthen your internal abdominal wall. Although some scarring is unavoidable with any surgery, your plastic surgeon takes steps to reduce the appearance of abdominal scars.
Abdominal Wall Reconstruction Risks
During pre-surgery visits, your doctor will tell you what to expect and how to prepare before and after your procedure. You'll learn about possible risks specific to your condition and procedure.
Abdominal wall reconstruction includes these and other potential risks or complications:
Blood loss
Infection
Poor wound healing
Reaction to the anesthesia
Recurring hernias
What to Expect
Abdominal wall reconstruction surgery is done in the hospital. Pre-surgery preparation includes a physical exam and other tests and evaluations during office visits.
Your doctor will tell you how to prepare for surgery, including instructions about diet, medication, and other guidelines. You'll see the surgeon before surgery and can share any last-minute questions or concerns.
You may receive medication before your surgery.
You'll receive general anesthesia and sleep through the procedure.
Your doctor will make an incision across your lower abdomen. The doctor uses various surgical techniques to carefully reposition displaced intestinal organs and tissues, reshape the abdominal wall, and repair holes or tears.
The surgeon will use surgical mesh to support and reinforce structures, layers of tissue, and weak areas of the abdominal wall.
Your surgeon closes the incision and covers it with protective bandages.
You're moved to a recovery room for monitoring as you awaken. When your condition is stable, you're moved to a hospital room.
Depending on the complexity of your condition, surgery times can range from two to six hours.
After Surgery
After surgery, your doctor assesses your condition and discusses your expected healing and recovery. You'll spend a few days or longer in the hospital, depending on your condition and procedure.  
You'll experience some swelling, redness, and discomfort and receive pain medication as needed. You may have some fluid drainage from your surgical wound. Your doctor will tell you about home care, including wound care.
The doctor will tell you when you're ready to go home.
Most people can return to regular activities within a week or two. You'll need to avoid strenuous physical activity and heavy lifting as instructed by your doctor. You should fully recover within several weeks.
It's important to follow all of your doctor's instructions for a safe and successful recovery. This can help avoid complications or recurring hernias.
Scarring will fade over time, but you'll have some permanent scarring.
You're encouraged to ask questions and tell us anytime you have concerns. Tell your doctor right away if you see any changes or have unusual symptoms. You'll have 24/7 contact information.
Your Plastic Surgery Team
At Faith Regional, your plastic and reconstructive surgeon, a specialized nurse, and other healthcare professionals such as an advanced care practitioner may be involved in your care.
Schedule a Consultation
You can reach us at 402-844-8167, frpsclinics@frhs.org, or online to schedule an appointment.