Breast Reconstruction and Reshaping After Cancer
At Faith Regional Physician Services, we offer a wide array of breast reconstruction procedures after a lumpectomy or mastectomy. Our team includes a plastic and reconstructive surgeon with breast cancer reconstructive surgery expertise and a breast oncology surgeon. Together, these board-certified specialists provide safe and aesthetically sensitive cancer-related breast care.  
The surgeons at Faith Regional in Norfolk, Nebraska make it all a little easier – from treatment decisions to results that give you peace of mind. We'll reshape the look, feel and form of your breast and your outlook after cancer surgery.
Breast Reconstruction and Reshaping Surgery
Our surgeons use hidden scar breast cancer surgery and other advanced techniques. Approaches like these can preserve healthy breast tissue, minimize scarring and help give you a more natural breast shape.
Breast care services include:
Lumpectomy
Mastectomy
Nipple-sparing and skin-sparing mastectomy
Immediate or delayed breast reconstruction
Complex flap procedures
---
Breast Reconstruction and Reshaping Procedures
Breast reconstruction options include tissue transplantation, breast implants, and combined approaches. Doctors offer nipple-sparing options or nipple reconstruction for a natural look.
Your surgeon can use a flap of skin, fat, and tissue from another part of your body to rebuild a breast. The doctor can take tissue from fatty areas of the belly, back, thighs or buttocks. At Faith Regional, we offer these and other procedures and approaches:
Free flap – The surgeon separates a flap of skin and tissues, including blood vessels. Your doctor transplants the detached (free) flap to the breast area.
Pedicled flap – The doctor separates a flap of skin from the abdomen or other area keeping some of its blood vessels pedicled (connected). The surgeon tunnels the flap under the skin toward the chest and reattaches it to the breast area.
Free flap, pedicle, or combined – Your surgeon may recommend one or more approaches, including muscle-sparing options. The doctor will discuss the pros and cons of DIEP, TRAM, fat grafting with liposuction, and other choices.
Implants – The doctor places breast implants to increase breast size or rebuild the breast. Options include silicone and saline (saltwater solution in a silicone shell).
---
Breast Reconstruction Risks 
All surgeries have some risks, such as bleeding, infection, poor wound healing, and reaction to anesthesia. Your doctor will inform you about risks related to the procedure, including:
Implant surgery risks

Breasts aren't the same size or form (asymmetry)
Changes in shape, size, and firmness caused by scarring (capsular contracture)
Implant deflation, rupture, and leakage
A rare but increased risk of lymphoma
Difficulty delivering radiation to the breast
Need to remove or replace the implant

Flap surgery risks

Risk of a partial or total loss of the flap
Loss of sensation at both the donor and reconstruction site
Abdominal muscle weakness
Abdominal wall weakness, increasing the risk of hernia
---
What to Expect if You Have Breast Reconstruction 
Preparation includes a physical exam and other tests and evaluations. Faith Regional doctors usually perform breast reconstruction in the hospital under general anesthesia. You'll have a short hospital stay. Your doctor will tell you where to go on the day of surgery and how to prepare.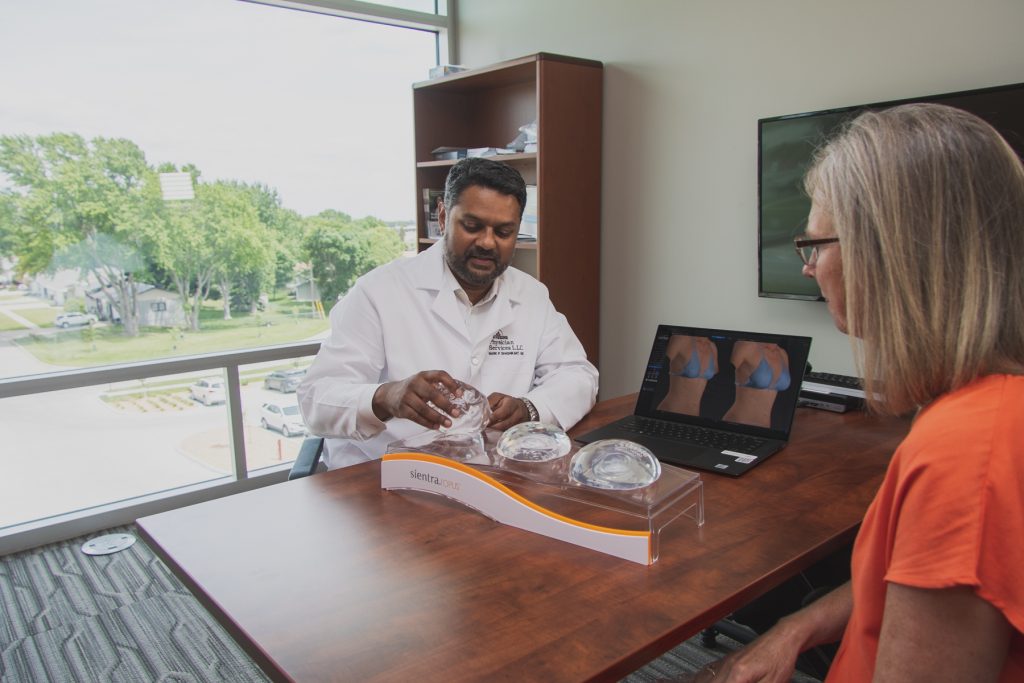 Implant Surgery  
In the weeks before surgery, your surgeon may use a tissue expander to slowly stretch breast skin. During or after a mastectomy, the doctor implants a balloon-like form under or over chest muscles. The doctor injects saline through a valve to stretch the skin and make room for the implant. Your surgeon may use a temporary implant that is gradually filled with carbon dioxide. You control its delivery with a wireless remote.
During reconstruction, the surgeon makes one or more incisions beneath your breast or in other locations. The number, size, and placement depend on treatment goals.
Your surgeon places the implant and may secure it with mesh or other techniques.
After surgery, you'll have a short hospital stay. the surgeon will examine your wounds, evaluate your condition and discuss follow-up care.
Flap Surgery Breast Reconstruction
An anesthesiologist gives you general anesthesia. The surgeon makes an incision in the belly, thigh, buttocks, or other areas to remove tissues for breast reconstruction.
Procedures vary based on how much if any muscle is removed and other details. For some, the surgeon divides the abdominal muscle above and below the blood vessels, taking only part of the muscle. The surgeon may need to dissect small blood vessels before removing muscle tissue.  
The doctor reshapes the breast and sutures skin and other tissues and blood vessels in place. Once the surgeon creates and shapes a new breast mound, the doctor closes and covers the incisions.  
After Breast Reconstruction Surgery
After surgery, your doctor will inspect your wounds and talk about your condition and care. Your Faith Regional care team will guide you, from wound care through home care and follow-up visits. You'll have 24/7 contact information.
Expect some swelling and discomfort. You'll have pain medication as needed. Soreness lasts a few weeks or more. Avoid strenuous activities during this time.
Scars fade over the months, but you can expect some permanent scarring. Your breast won't look exactly as before, but you'll have a nearly normal, even breast shape. It won't have the same feel and sensations. This will vary depending on your procedure.
If your flap surgery includes implants, your doctor will discuss how long they may last. In time, you'll need another surgery to replace them.
Your doctor will discuss healing, recovery, and any additional procedures such as nipple reconstruction.
---
Your Plastic Surgery Team
At Faith Regional, your plastic and reconstructive surgeon, a specialized nurse, and other healthcare professionals such as an advanced care practitioner may be involved in your care.
Dr. Mark Shashikant
Aesthetic/Cosmetic Surgery
Reconstructive/Plastic Surgery
Schedule a Consultation
You can reach us at 402-844-8167 or frpsclinics@frhs.org  to schedule an appointment.