Faith Regional Names Dr. Mensah its 2020 Physician of the Year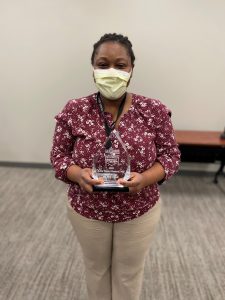 It's no secret that 2020 has been extremely challenging for everyone, including healthcare entities globally. Afua Ntem-Mensah, MD, a physician who has been integral in treating COVID-19 patients at Faith Regional, has been named Faith Regional's 2020 Physician of the Year. Dr. Mensah is an infectious disease specialist at Faith Regional. She joined the hospital's medical staff in October 2019.  A few comments about Dr. Mensah submitted on the nomination forms, include:
"She lives the mission and vision of Faith Regional."
"She's regarded as the 'greatest asset'."
"She is a true example of living out our Mission."
"Her motto 'If it can be done in a big hospital, we can do it here'."
"She's always upbeat and carries herself with grace and compassion for her patients."
"She goes above and beyond not only for her patients but for the staff she works with."
Nearly 82 submissions were received for 2020 Physician of the Year with over 295 submissions sent in since the program's inception in 2017. The winner was chosen by Faith Regional's Physician of the Year Selection Committee. Nominees were evaluated on the testimonials received, active involvement in the hospital and within the community, and had to be a member of Faith Regional's medical staff.  
Nominations for the 2021 Physician of the Year can be submitted online now through November 1, 2021.