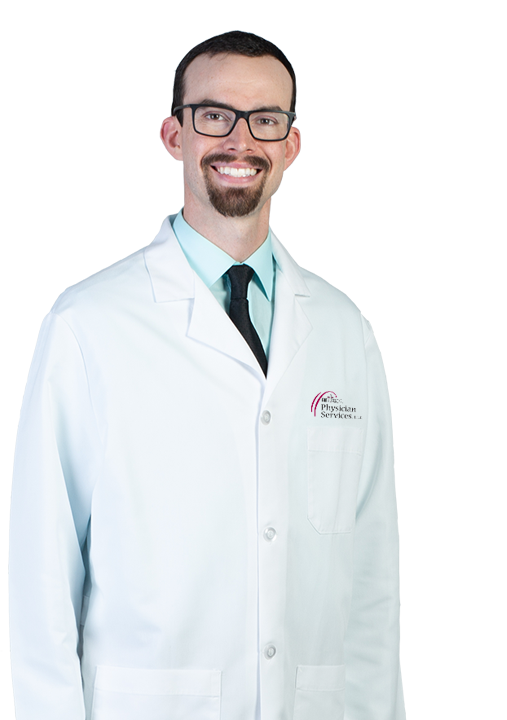 Primary Clinics:
Norfolk, NE 68701
Ph: (402) 844-8097
Fax: (402) 844-8098
Hours: Monday - Thursday: 8:00 a.m. - 4:30 p.m., Friday: 8:00 a.m. - 12:00 p.m.
Directions
Andrew Baldwin, MD
---
Dr. Andrew Baldwin specializes in a wide range of eye conditions and surgical treatments including cataract surgery, glaucoma, medical retina, oculoplastics, and refractive surgery. He treats patients at the Faith Regional Physician Services Ophthalmology clinic in Norfolk, NE. 
Dr. Baldwin is trained in the most advanced minimally invasive glaucoma surgeries available and has extensive experience in the area of medical retina. He performs intravitreal injections for retinal disorders, argon laser for retinal tears, and pan-retinal photocoagulation. 
In addition, Dr. Baldwin has extensive experience implanting the most advanced intraocular lenses, including Toric and Multifocal intraocular lenses, to provide patients with optimal refractive outcomes. 
Dr. Baldwin offers surgical intervention for disorders of the eyelid, such as blepharoplasties, ectropion, and entropion repair, including YAG capsulotomy, YAG peripheral iridotomy, and selective laser trabeculoplasty. Dr. Baldwin performs surgeries both in Norfolk and Columbus. 
---
Schedule an Appointment
Call us today at (402) 844-8097 to schedule an appointment with Dr. Baldwin. 
Education:
Medical Degree: University of Iowa Carver College of Medicine, Iowa City, IA;
Ophthalmology Residency: University of Nebraska Medical Center, Omaha, NE