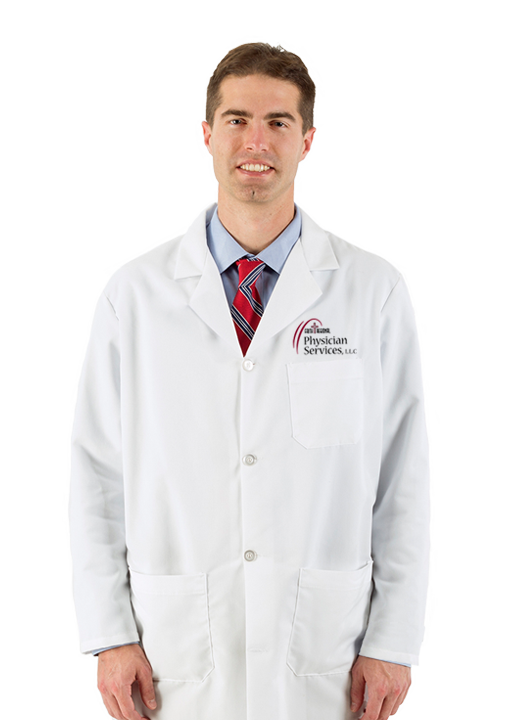 Primary Clinics:
Norfolk, NE 68701
Ph: (402) 844-8291
Fax: (402) 844-8292
Hours: Monday - Thursday: 8:00 a.m. - 4:30 p.m.; Friday: 8:00 a.m. - Noon
Directions
Tristan Hartzell, MD
---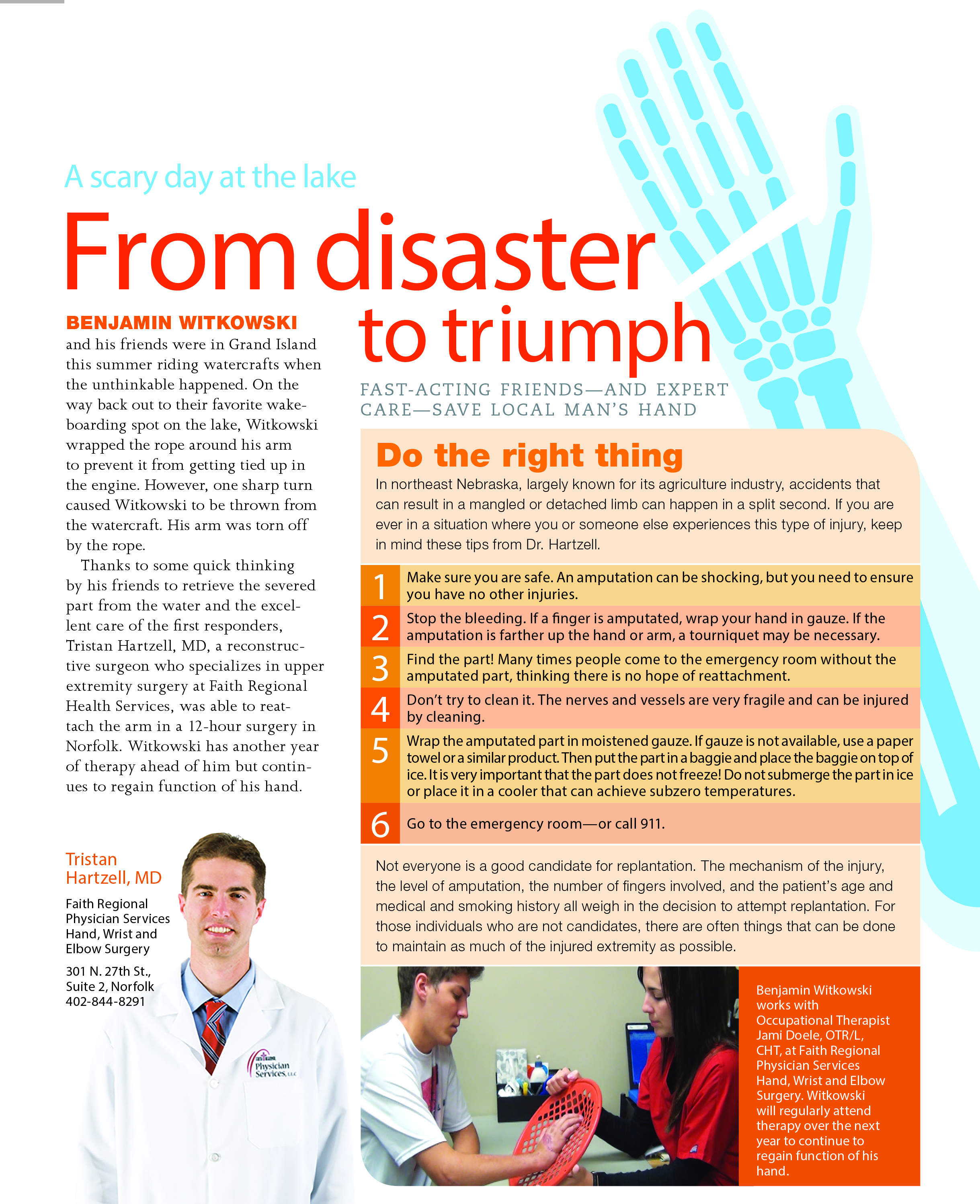 Publications:
1) Kyriakides T, Hartzell TL, Huynh G, and Bornstein P. Regulation of angiogenesis and matrix remodeling by localized, matrix-mediated antisense gene delivery. Molecular Ther 2001;3:842-9.
2) Learn C, Hartzell TL, Archer G, Riggins G, Rich J, Friedman H, Friedman A, Bigner D, Sampson J. Resistance to tyrosine kinase inhibition by mutant epidermal growth factor receptor variant III contributes to the neoplastic phenotype of glioblastoma multiforme. Clin Cancer Res, 10:3216-3224, 2004.
3) Azin Agah, Themis R. Kyriakides, and Paul Bornstein; Hartzell TL acknowledgment. Proteolysis of Cell-Surface Tissue Transglutaminase by Matrix Metalloproteinase-2 Contributes to the Adhesive Defect and Matrix Abnormalities in Thrombospondin-2-Null Fibroblasts and Mice. Am J Pathol 2005; 167(1): 81-88.
4) Wang H, Hartzell TL, Olbrich K, Erdmann D, Georgiade G. Delay of Transverse Rectus Abdominis Myocutaneous Flap Reconstruction Improves Flap Reliability in the Obese Patient. Plas Reconstr Surg. 2005;116(2): 613-618, August 2005.
5) Stokes T, Hartzell TL, Gunn L Marcus J. Intraosseous hemangioma of the infraorbital rim. J Craniofac Surg. 2005;Jul:16(4): 703-5.
6) Hartzell TL, Barlam B. Shortness of breath and wheezing. Ann Emerg Med 2008; 51(2):126.
7) Hartzell TL, Hornicek F, Austen WG. Latissimus dorsi flap closure of the irradiated clavicular wound. J Shoulder Elbow Surgery. 2008;17(6); 875-880.
8) Hartzell TL, Taylor H. Traumatic amputation of a supernumerary digit: A 16-year old boy's perspective of suture ligation. Ped Derm 2009;26(1): 100-102.
9) Hartzell T, Orgill B, Chan R, Mathy J, Orgill DO. V-Y modification of a bipedicle flap. Plast Reconstr Surg 2009; 124(1):167-70.
10) Theman T, Hartzell T, Sinha I, Orgill DO. Recognition of a new chemotherapeutic vesicant: Trabectedin (Ecteinascidin-743) extravasation with skin and soft tissue damage. J Clin Oncol 2009; 27(33): e198-200.
11) Hartzell T, Sampson C. Long term results of periarterial sympathectomy. J Hand Surg 2009 Oct;34(8):1454-60 2009.
12) Hartzell TL, Skavdahl M. Appendicitis presenting with portal venous gas. CJEM 2010 Nov;2(6): 525-6, 538-9.
13) Hartzell T, Sangji N, Hertl M. Nipple areola complex necrosis after infiltration of local anesthesia with epinephrine. Aesthetic Plast Surg 2010; 34(6): 782-4.
14) Hartzell TL, Taghinia A, Carty M, Upton J. The corkscrew internal fixator. Plast Reconstr Surg 2010; 126(5); 199e-201e.
15) Hartzell TL, Taghinia A, Chang J, Lin S, Slavin S. The use of human acellular dermal matrix for the correction of secondary deformities after breast augmentation. Plast Reconstr Surg 2010; 126(5): 1711-20.
16) Rabie A, Hartzell TL, Han C, Frankenthaler R, Lin S. Submental artery perforator flap for a melanoma defect. Otolaryn Head Neck 2010; 143: 153.
17) Hartzell TL, Pribaz JJ. A minimally invasive technique for burying free flaps and grafts. J Reconstr Microsur 2011; 27(2); 79-82.
18) Hartzell TL, Medina M, Hornicek FJ, Austen WG. Extended dermal apposition: a simple technique for the closure of irradiation perineal and sacral wounds. Plast Reconstr Surg 2011; 127(6): 170e-173e.
19) Hartzell TL, Azari K. Surgical and technical aspects of hand transplantation: is it just another replant? Hand Clinics 2011; 27(4):521-30.
20) Hartzell TL, Rubinstein R, Herman M. Modalities in hand therapy. J Hand Surg Am 2012; 37(3):597-621.
21) Hartzell TL, Gardiner S. Telemedicine in plastic surgery. JPRAS 2012; 65(3)e47-53.
22) Eberlin KR, Hartzell TL, Kuo P, Winograd J, Day C. Patients transferred for emegency upper extremity evaluation: Does insurance status matter? Plast Reconstr Surg 2013; 131(3):593-600.
23) Hartzell TL, Kuo P, Eberlin K, Winograd J, Day C. The overutilization of resources in the emergent transfer of patients with hand injuries. J Hand Surg Am 2013; 38(4):766-73.
24) Shahbazian JH, Hartzell TL, Pandey AK, Azari KK. Allergic dermatitis due to topical antibiotics. West J Emerg Med. 2012 Sep;13(4):380-2.
25) Hartzell TL, Shahbazian J, Pandey A, Benhaim P, Azari K. Range of motion measurements in hand surgery: Should they be used for assessing outcomes? Ann Plast Surg 2013; 71(4):355-360.
26) Hartzell TL, Shahbazian J, Pandey A, Stoffman L, Bernthal N, Azari K, Benhaim P. Does the gatekeeper model work in hand surgery? Plast Reconstr Surg 2013; 132(3):381-6e.
27) Hartzell TL, Williams G, Faulkner-Jones B. Acne inverse (hidradenitis suppurtiva) in a patient with axillary breasts. Ann Plast Surg 2013; in submission.
28) Eberlin KR, Hartzell TL, Kuo P, Winograd J, Day C. Patients transferred for emergency upper extremity evaluation: does insurance status matter? Plast Reconstr Surg 2013; 131 (3): 593-600.
29) Kuo P, Hartzell TL, Eberlin KR, Miao D, Zurakowski K, Wingorad JM, Day CS. The characteristics of referring facilities and transferred hand surgery patients: factors associated with emergency patient transfers. J Bone Joint Surg Am 2014; 96(6):e48.
Save
Save