New Board Certifications Received by Doctors at Faith Regional Physician Services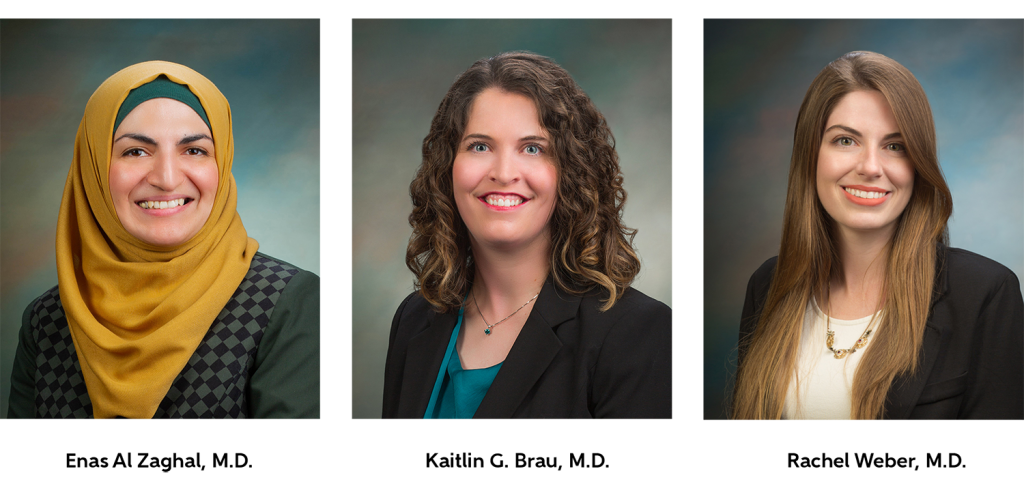 Faith Regional Physician Services is pleased to announce that three physicians have recently received their board-certifications.
Enas Al Zaghal, M.D., and Kaitlin G. Brau, M.D., have both earned their board-certifications in Endocrinology, Diabetes and Metabolism from the American Board of Internal Medicine. Board-certification from ABIM is the highest standard in internal medicine and its subspecialties, including Endocrinology, Diabetes and Metabolism, and signifies that those physicians have demonstrated to their peers and to the public that they have the clinical judgement, skills and attitudes essential for providing excellent patient care.
Both Dr. Al Zaghal and Dr. Brau specialize in diagnosing and treating disorders of the endocrine system (the glands and organs that make hormones), including adrenal disorders, diabetes, osteoporosis, parathyroid and thyroid cancers and disorders, and pituitary disorders. Both physicians joined Faith Regional Physician Services in 2018.
In addition, Rachel Weber, M.D., recently obtained her board-certification in Plastic Surgery from the American Board of Plastic Surgery, Inc. A plastic surgeon certified by the ABPS, has completed the appropriate training and passed comprehensive written and oral examinations covering all plastic surgery procedures. The ABPS certification encompasses the entire spectrum of plastic surgery, including cosmetic, reconstructive, craniomaxillofacial, and hand surgery.
Dr. Weber specializes in microsurgery, cosmetic surgery, and breast reconstruction. She offers her patients a wide range of options in body contouring and facial cosmetics as well as in breast surgery, including breast reshaping and reduction techniques, volume replacement techniques, skin and nipple sparing surgery, and Hidden Scar Breast Cancer Surgery. She joined Faith Regional Physician Services in 2017.
"Board certification is one of the many ways that Faith Regional Physician Services ensures the highest quality of care for our patients," said Patrick Roche, Chief Operating Officer at Faith Regional Physician Services.
Board-certification is voluntary and includes a rigorous exam that tests a physician's ability to diagnose and treat patients with a broad range of conditions. To maintain certification, physicians can participate in activities that assess knowledge of the latest scientific developments and changes in practice and in specialty areas.