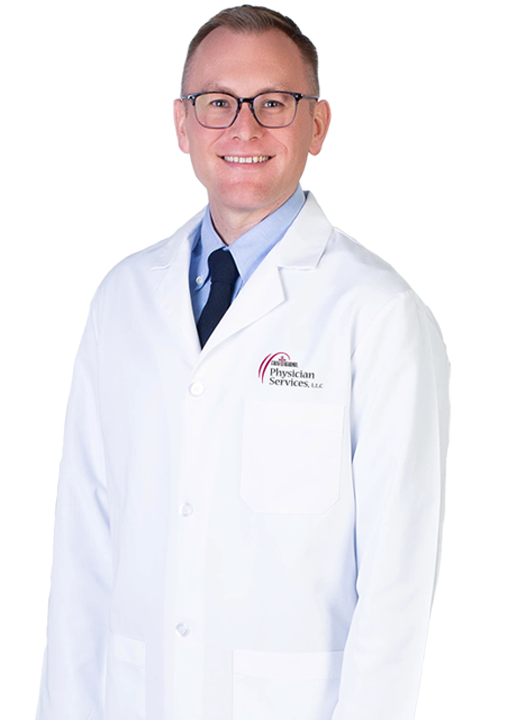 Primary Clinics:
Norfolk, NE 68701
Ph: (402) 844-8158
Fax: (402) 844-8159
Hours: Monday - Thursday: 8:00 - 4:30 p.m.; Friday: 8:00 a.m. - Noon
Directions
Michael Woodbury, DO
---

Trust is the utmost important aspect a patient can have in a physician. My goal is to have my patients trust me to be there for them and provide the highest level of care they deserve.

As an orthopedic surgeon, Dr. Michael Woodbury specializes in the prevention, diagnosis, and treatment of injuries and disorders of the bones, joints, ligaments, tendons, and muscles. He provides patients with innovative treatment and personalized care at Faith Regional Physician Services Orthopedics in Norfolk, NE. His services include, but are not limited to:
ACL Repair and Reconstruction
Advanced Hip and Knee Replacements and Complex Revisions (Including partial knee replacement and all approaches to the hip)
Orthopedic Trauma
Having completed an Adult Reconstruction and Hip Arthroscopy Fellowship, Dr. Woodbury provides the highest level of care for joint replacement patients and revisions of prior joint replacement surgeries.
He is a member of the American Osteopathic Association, American Academy of Orthopedic Surgeons, American Osteopathic Academy of Orthopedics, American Association of Hip and Knee Surgeons, and the Musculoskeletal Infection Society.
In 2018, Dr. Woodbury was awarded second place nationally by the American Osteopathic Academy of Orthopedic Surgeons for his research paper "Subacute Talonavicular Fracture - Dislocation Treated with Medical Bridge Plate."
---
Schedule an Appointment
Call us today at (402) 844-8158 to schedule an appointment with Dr. Woodbury. 
---
Patient Stories - Meet Deb
Deb had been dealing with pain in her knee for a while. She met Dr. Woodbury and felt confident in him and appreciated how well he explained everything. She was home within 12 hours of her knee replacement surgery and after working with Faith Regional's Physical Therapy team, she's back to chasing her grandkids and doing what she loves! Watch more of her story below:
Board Certifications:
Orthopedic Surgery
Education:
Education: Midwestern University, Arizona College of Osteopathic Medicine, Glendale, AZ 
Internship: Michigan State University: Genesys Regional Medical Center, Grand Blanc, MI
 
Residency: Michigan State University: Genesys Regional Medical Center, Grand Blanc, MI
 
Adult Reconstruction and Hip Arthroscopy Fellowship: Desert Orthopedic Center, Las Vegas, NV